Here's Everything You're About To Get
(And You Can Try It All 100% Risk Free)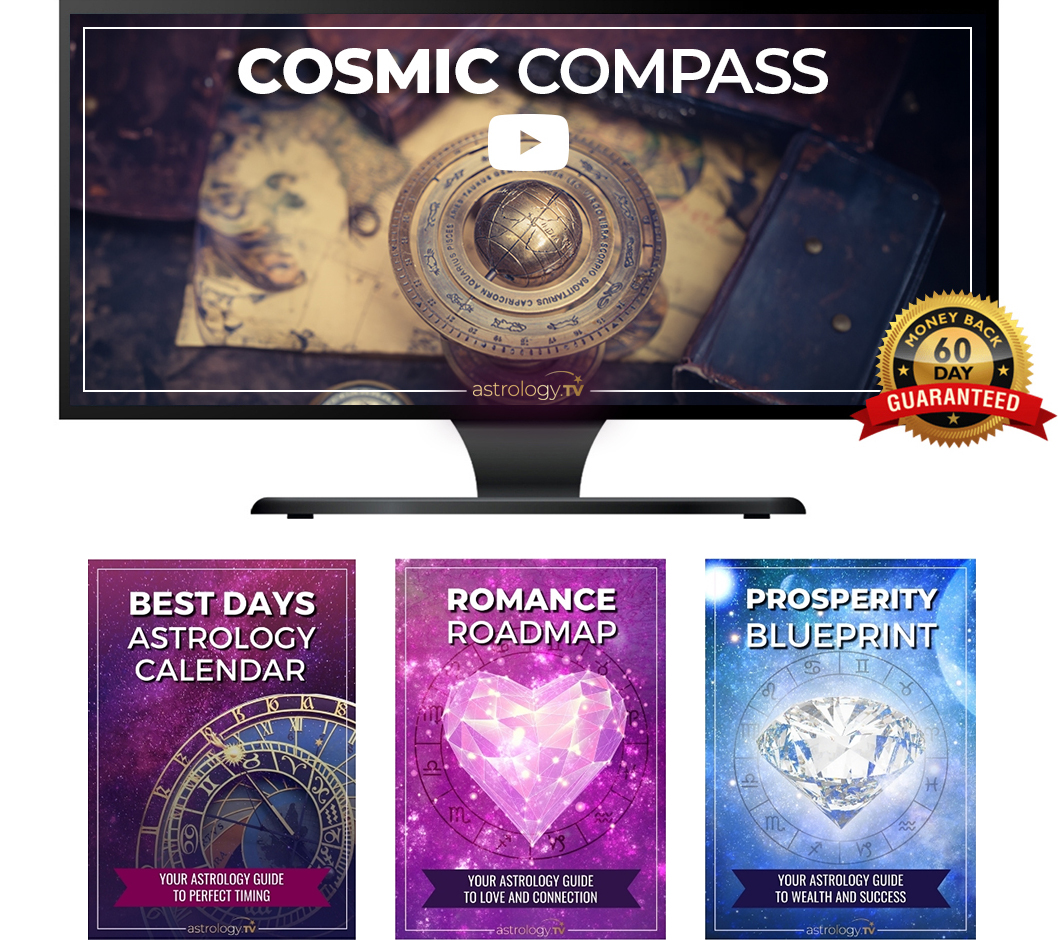 So far, we've looked at your Sun Sign... and have barely scratched the surface of your astrology chart, as revealed in your Cosmic Compass video.
As you have likely seen, your sun sign gives a good overview. It is however a very incomplete one, because it is just one of the ten most important planetary elements in your astrology chart.
Then, there's...
Venus: Your Love and Attraction Guide. Discover the harmonious aspects of your personality, how you relate to others and where you can find joy and beauty in your life:

Discover your personal style of love and understand your relationship strengths and weaknesses.
Gain insights into your personal values, financial habits, and what truly gives you pleasure.
Learn about your capacity for balance and peace, and how you can maintain it to lead a harmonious life.

Mars: Your Motivation and Passion Map - Unleash the hidden energies within you, your motivation, your drive, and your deepest desires:

Discover what truly motivates you, and get insights into how best to handle your "triggers".
Uncover your leadership abilities and strengths, to harness the energy of Mars towards success.
Understand the drive behind your ambition and how you can best channel this energy constructively.

Mercury: Master Your Mind - Decode your communication style, your intellectual capabilities, and how you process and exchange information with the world around you.

Uncover your unique thinking style and learn how it influences your decision-making and creativity.
Discover your natural communication style, helping you make a positive impression in various life situations.

Jupiter: Unlock Your Wealth of Opportunities - Explore the realms of luck, prosperity, growth, and where your life could expand to achieve great things.

Discover where your life's blessings and luck are most likely to be found.
Learn how to balance optimism and excess, to make the most of Jupiter's natural abundance.
Uncover your own methods of spotting opportunities and better understand your own growth patterns.

Saturn: Overcome Your Life Lessons - Confront the challenges that make you stronger, understand your fears, and discover the disciplines that can lead to your greatest success.

Discover about your life lessons and understand the wisdom you brought into this lifetime.
Gain insights into your responsibilities and duties and learn how to handle them with resilience and discipline.
Understand your own limitations and how to grow beyond them.

Uranus: Ignite Your Unique Spark - Identify the unconventional aspects of your personality, your originality, and where you can bring innovation to your life.

Discover your individuality and uniqueness and learn how to use it to create lasting positive changes.
Understand your innate rebellious streak, and how to steer it towards constructive innovation instead of disruptive actions.
Understand your drive for freedom, shaping the way you deal with the limitations set by rules and conventions.

Neptune: Follow Your Spiritual Compass - Dive into your spiritual world, your intuition, dreams, and get to know your inner self on a deeper level.

Understand your idealism and spiritual growth and learn how to manage confusions and fears.
Uncover your healing abilities and sensitivity and learn to harness your intuitive powers.
Discover the power of your dreams and your spiritual quest.

Pluto: Unearth Your Hidden Powers - Dig deep into your psyche, unravel the transformative energies within, and learn how to harness these for personal growth and self-improvement. Understand your ability to reinvent yourself and how to use this to overcome challenges and bring about positive change in your life.

Gain insight into your understanding of power and your potential for manipulation.
Uncover your hidden jealousies, resentments, and obsessions and learn how to transform them.
Understand the transformative changes in your life and how they contribute to your evolution.
We have also yet to discover your North Node: Discover Your Soul's Pathway - which unravels your life's unique spiritual journey, explores your purpose, and reveals the growth opportunities that lead to your true fulfillment.
By discovering the meaning of your North Node, you will:
Understand the path you are destined to walk and gain insights into your highest potential.
Receive guidance on overcoming life's challenges and learning from your past and current experiences.
Uncover the lessons you need to learn in order to grow as a more enlightened and integrated soul.
Knowledge of these planetary and celestial influences can provide a profound understanding of your inner self and a path for personal growth, making each day of your life more meaningful and enriched.
Over the course of 30 enlightening minutes, your Cosmic Compass reading will uncover your hidden potentials, overcome your weaknesses, and guide me towards living your life to its fullest, truest potential.
Bonuses
By ordering today, you'll also receive these 3 amazing bonuses...
Your Best Days Calendar: your personalized guide to spotting the opportune days for success and wealth, while also highlighting days to relax and recharge, enabling you to optimize your life journey with foresight that gives you a unique edge.
Your Romance Roadmap: Decode the passionate mysteries of each zodiac sign, uncover your compatibility, and learn to navigate your romantic journey with crystal clear understanding.
Your Prosperity Blueprint: Your astrological guide to wealth and success, providing insights into your zodiac sign's career profile, financial behaviors, and compatibility with other signs, serving as a treasure map to guide you towards a wealthier and more successful future.
PLUS - you get to sample my reading 100% RISK FREE with our 60-day, 100% money back guarantee.
If you find yourself unsure over the next 60 days, please know you can get every cent back with no questions asked, and you can keep your gifts for free.
Get started by clicking the button below and filling out the form on the next page.
If you have any questions about your Cosmic Compass video reading, please email me at support@astrology.tv. I look forward to serving you!
Always with your best possible future in mind,
Kelli Fox
P.S. Don't just take my word for it!
See what others have said about their Cosmic Compass...
Wow!!! Thank you so very much. I feel like I certainly can get my life on track. That personal horoscope movie was just down right amazing. And the information it provided. Wow!! Peace, love and light to you. I advise everyone to get their personal movie

❤️

- LaJoyce
I've enjoyed this very much, thank you. Your predictions have been on target the whole way through, although I missed a few and was a little bit too late before it resulted like it did... I just pray the ending result is fair and the new beginning awesome. God bless... - Kelly

Results are not typical, individual results may vary.
I cannot thank you enough for all the information you provide us. I am a true believer in the planets, universe, and you are the best lecturer by far. Thank you so much for sharing the wonderful planets and signs to us. I love your readings, they are accurate to the point. - Marietta

Results are not typical, individual results may vary.
Kelli always finds the balance between shadow and light to guide us in the best direction. She can see clearly through the maze of mathematics of Astrology, hold it all in her head and clearly describe what's on the Astrological agenda for the following day, week, month and year. - Valerie-Anne

Results are not typical, individual results may vary.
Click The Button Below To Continue